Hit CTRL-Refresh a few times if the images don't display correctly.
Xerox DocuMate 510 and my less paper office
In March, I bought a
Xerox DocuMate 510
scanner. The reason I wanted a new scanner was because I had decided to scan in all my paper documents. Why have paper versions of bank records and phone bills filed away when they can be electronic? I decided I wanted everything to be a PDF.
The problem with my paper-based filing system is that it quickly grew and started taking up a lot of space. I ended up throwing out a lot of paper to keep things under control. But occasionally, I would throw away something that I would later want to look at. (BTW, I got my Google GMail account today! One of its selling points is that there is so much space you never have to throw away (delete) any of your messages. Kinda like my PDF system -- now I can keep a copy of everything that I want!) PDF versions of these documents take up a lot of hard-drive space but that is easier to come by than physical space. One of the nice things about Adobe Acrobat is that you can use the OCR feature to detect the text in the PDF documents. This means that all my PDF files are searchable! I can open up my PDF of credit card statements and search for Sears. I can quickly find the date I bought that drill. It is a lot of work to search through my paper statements and find a particular transaction.
The PDF versions of these documents are easy to backup. I burn everything to a couple DVDs and store them in my safety deposit box. If my house burns down, my paper documents will be destroyed but I will still have my PDFs. My goal isn't to have a paper-less office -- my goal is to have a less-paper office. Obviously some things need to remain on paper. I can't scan in my passport or vehicle registration and recycle the paper copy. But having a scanned version of these documents does make it easy to find my passport number.
This is how my scanner looks: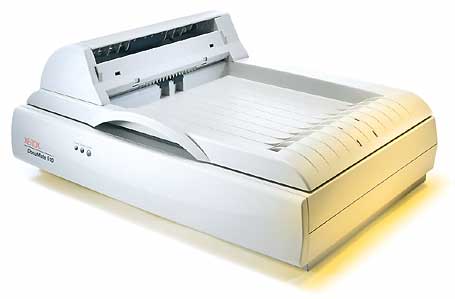 It is a Xerox DocuMate 510 scanner. Here's the
user manual
-- as a PDF or course! ;-) It also includes PaperPort 9 scanning software. Here's the PDF for
it
.
The reason I bought this scanner is the very positive reviews, the reasonable price and the automatic document feeder. Its hard to find a scanner that meets these three basic features. The automatic document feeder is the best part. I can put a pile (up to 50 pages) of documents on the scanner and come back later and it will be done. The scanner supports double-sided scanning. When you are finished scanning the first side of the documents you turn the pile over and send them through again. The resulting PDF file has the pages back-to-back in the original order.
I scan in my documents at 300 dpi with 24-bit color. The resulting PDFs take up about one megabyte per page. This is a lot of hard drive space but hard drives are getting cheaper by the month and I don't want to have to re-scan my documents at a later date. At the quality that I'm scanning at, the scanner is not very fast. But its speed is similar to the other ones in its price range. Speed isn't important to me as I just drop my pile of documents on the scanner and walk away. The quality of the PDF is very good. I will post a sample on my site in the next day or so.
Since many of my documents are in portrait mode (8 1/2 by 11 as opposed to 11 by 8 1/2), when I view them as a PDF I have to zoom out to see the whole page. This isn't a problem for landscape documents since monitors are in a landscape orientation. My 17" monitor's display is just a little bigger than 8 1/2 by 11 so I can see the document at its actual size. Now I'm wanting a
Dell
UltraSharp 1901FP 19-inch Flat Panel Monitor
. This monitor swivels from landscape to portrait mode so it doesn't matter what orientation my documents are in.
Watch this!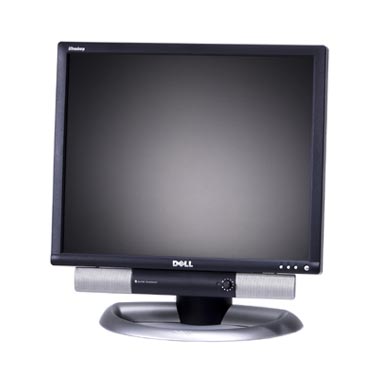 Now, a quick flick of the wrist and voila!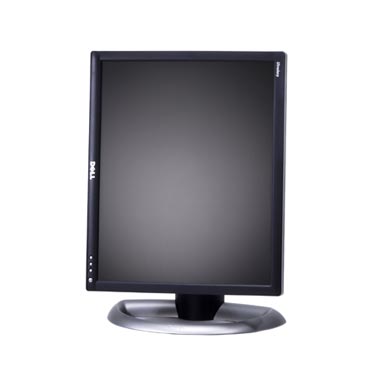 Nice! (Whoops! Looks like the optional speakers fell off when I rotated it. If you see them let me... oh, there they are at the bottom of this entry!)

Comments:
|
Send Me A Private Comment
Thanks, I have been looking around at a scanner for just this work load, and NOBODY has managed to answer the simple question....
It handles double-sided scanning quite well! I'm glad this review was useful to you.
Hello,
That's right, the duplex scanning is not automatic. To do double-sided printing you put in the stack of paper and press scan. Then turn the stack over (you don't turn over each individual sheet just one flip of the whole stack) and press scan again. Its that simple!
Thanks for the review. Does the canner come with the Adobe PDF software, or will we need to buy that separately?
The Adobe PDF software isn't included. :-(
Reece,
Its the software not the scanner. The Documate came with PaperPort 9 software which supports the double-sided scans.
I have scanned several documents into Adobe but none of the text is searchable. How do I make it searchable?
You need to make sure you have the full version of Adobe Acrobat. The free Acrobat Reader does not support this functionality.
Thanks for your review. I bought the Documate 510 on your recommendation and am VERY pleased with its ease of use, quality of output, and manufacturing quality. I had been looking for an alternative to HP since I read multiple critical reviews of their scanners and had problems myself with their inkjet printers. A satisfied customer is the BEST sales booster for any company. Thanks again for the tip on this scanner!
Hi,